Remember When……?
We held a clinic in the shop a few weeks ago for some local band directors. One of the band directors brought along a repair kit that belonged to his grandfather when he taught music. In the kit we found…..a box of Perma-Pads. I got a kick out of the little pamphlet included in the box (pdf document - 310KB). Some things just never change in the repair industry!!!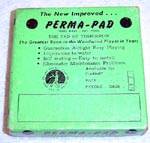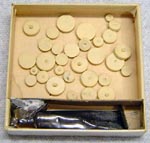 Guess the Tool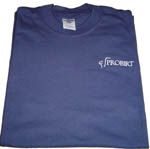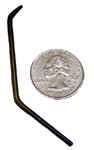 Anyone know what this tool is and how to use it? It came in a box of junk from a shop I recently bought out. It is in the original envelope from the supplier and with the name of the tool and the stock number printed on it. First person that can tell me what it's called and how it's used gets a free embroidered PROBIRT t-shirt. Send an email to probirt@probirt.com with the info.
.....And no, I'm not referring to the quarter!!!

Update: The prize has been claimed by Matt Berkvam. The tool is an RT192 Post and Knob Turner from the Erick Brand Company. It is used to unscrew posts from instruments. Congratulations Matt!!! Email me your snail mail address, Matt!
Live Online Clinic Marathon

The first PROBIRT live online clinic is scheduled for September 8th and 9th, 2005. Larry Mueller will be visiting from Texas and spending 2 days here at the shop. We will be recording clinics that will later be edited and made available as streaming videos on the site. The entire two days of taping will be streamed live through the PROBIRT site as it takes place. Topics will include:

Pro clarinet padding and adjustment
Hand tool turning on a jeweler's lathe
Small metal lathe primer
Checking oboes for leaks by several methods
Oboe adjusting
Cork pad work
Making small tools
The versatile drill press

So, take a break from the bench during the end of summer rush and tune in.

In addition to watching the clinics you'll also be able to "chat" with others watching the clinics and also ask questions of the clinician.

You will need Flash Player installed on your computer to view the clinic. If you're not sure whether you have the software, try viewing the Dana Rivard video. If it plays for you, you're set. If it doesn't, you'll need to download and install the latest Flash Player. (Be sure to UNCHECK the Yahoo Toolbar option or you'll download a bunch of unnecessary junk.) For technical help, contact me before September 7. No help will be given on the clinic days.

To view the live clinic,swiss replica watches log into the site on September 8th and/or 9th. You will be greeted with a schedule of topics, instructions, and a link to the clinic area. See you then!