THE PROBIRT TOUR
Live Repair Clinics
Band instrument epair videos are presented in two ways. The "Live, Online Clinics" let you attend live sessions and ask questions of the presenter in real time. The "Streaming Videos" allow you to view clinics on specific subjects at your convenience.
Live, Online Clinics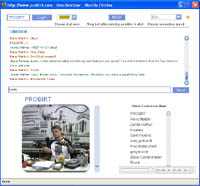 PROBIRT periodically schedules live band instrument repair clinics for its members presented by experts in particular areas of the trade. This means you can attend a clinic without going to the time and expense of traveling. In fact you don't even need to leave your chair! With the live clinic user interface you can watch video of the clinician, listen through your computer speakers, and ask questions of the clinician in the chat box. You can also adjust your settings to optimize the clinic according to your internet connection and see a list of current clinic participants.